Emergency Preparedness Guide & Checklist
According to the US National Library of Medicine National Institutes of Health - health care workers are increasingly faced with the constant threat of confronting both natural and man-made disasters.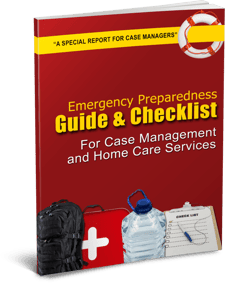 There is limited research on preparation of health care workers for disasters.
This Special Report that includes specific checklists are designed to ensure that clients receiving home care and case management services have a conversation, develop an emergency plan, and gather a three days or more supply of nine essential items in preparation for an emergency event.
What you'll find inside:
The 7 Critical Things to Consider About Emergencies and Disasters – When They Occur and What to Do (page 3)
Discover What the Social Work Policy Institute Has to say About Emergency Preparedness and Why it Absolutely Essential You Take Planning Seriously for Your and Your Patients or Clients (page 4)
The 8 Questions Every Caseworker or Home Health Worker Needs to Ask Before ANY Plan is Created… (page 7)
The 9 Essential Items That Must Go Into Any Emergency Preparedness Kit… (page 11)
As a Mobile Case Manager – The Things You Should Always Have in Your Car… (page 9)
The 3 Emergency Preparedness Checklists That Make Up Your Plan… (page 6)
How to Find the Types of Emergencies You Should Focus on in Your Area… (page 5)