7 Questions Every Non-Profit Leader Needs to Ask BEFORE Selecting New Case Management Software
Most non-profits that are considering new software fall into one of three categories: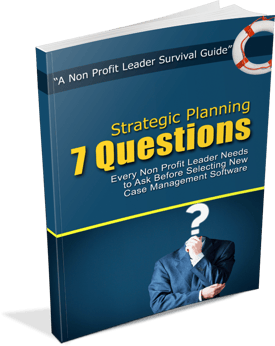 Smaller non-profits still using paper and file systems that realize the time has come to integrate technology into their processes
Non-profits that are frustrated with their outdated and/or inflexible software
Non-profits that have software they have outgrown
New Software is an Investment...
Of money? Sure. But the more important investments are your time and resources. Money, in fact, might be the least of it because powerful software solutions are more affordable than ever. However it is a significant investment of time and resources to begin using new software that you need to be paying attention to. Time is something you can never get back.
Questions to Guide You
In this Special Report - we provide the 7 questions you must ask you software vendor before ever making a purchase. Based on survey research - these are important questions to ask that will help you gather "intel" and streamline your "homework" to find what you really need from your new software - before you meet with your prospective vendor.
If you know what you want out of your software before you shop - you will be better able to ask the right questions. It's that simple.
Download the Report Today!