4 Essential Questions to Determine Your
Demonstration Readiness

Find the best software for your needs...
Looking for a new software system for your agency? We've identified 4 areas of focus that will help you find the best software for your needs. Included in this guide are action steps and checklists that will help you in the following areas:
System Analysis – from stakeholders to system type (web-based or installed and the differences/criteria for each)
10 Critical Questions to Ask about a vendor
Evaluations – important steps for evaluating your software
6 No-Nonsense questions to ask a reference
How to prepare for and get the best demonstration possible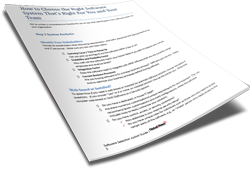 Download the Report Today!